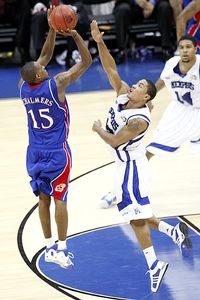 A Kansas Comeback for the History Books!
This was not the smooth-running, fast-paced, high-scoring game everyone was expecting to see. As happens more often as not, things didn't quite work out the way they had been envisioned. The 2008 NCAA Tournament Championship Game was such a thing...
The Memphis Tigers were denied passage to the lane most of the night. Kansas owned the paint on the opposite end of the court, playing their regular game. Even so, the game remained tight throughout, aided by some sloppy ball handling by both teams. Kansas was not hitting three-pointers and Memphis was. And Derrick Rose, Memphis' second leading scorer, went cold for 24 and a half minutes (16 and a half in the first half).
Memphis was definitely out of sync. Memphis' Joey Dorsey was not blocking out Darrell Arhur and Darnell Jackson like he did all those other big guys on those other teams. Kansas was simply denying Memphis their game.
And then Memphis went on a scoring run and with a little more than two minutes to go in the game, Memphis had a 9 point lead. It would have been 10 but a three-pointer was downgraded to two points after being reviewed by the referees. Kansas Coach, Bill Self, called a time out. Kansas then began a foul campaign to force Memphis to win the game from the free throw line.
And then Memphis' two best shooting guards, Derrick Rose, who had come alive with 12 minutes to go in the game and score a dozen points, and Chris Douglas-Roberts missed 4-5 from the line, giving Kansas a chance to tie the game with just a few seconds to go. And they did. With two seconds to go, Mario Chalmers hit an off-balanced three-pointer to tie the game. Memphis could not hit a subsequent half-court shot and the game went into Overtime.
Kansas immediately stole the ball -- after Memphis won the tip -- and scored. The momentum was all in Kansas' favor. Memphis "controlled chaos" style of basketball had lost its control. Kansas went on to win, 75-68.